Just about a week ago, this article popped up in Yahoo's Big League Stew.  While I hope Major League Baseball does not expand again, it at least makes for a decent conversation piece in the dead of winter when very little seems to be happening.  Out of boredom, I decided to create my own expansion plan.  I reject the idea of adding a third team to New York, as it seems pointless and could only hurt the Mets.  I instead propose adding two new teams to the American League in states that currently lack a major league baseball team.  This would make the NL and AL have an even number of teams and allow MLB to prosper in two new cities.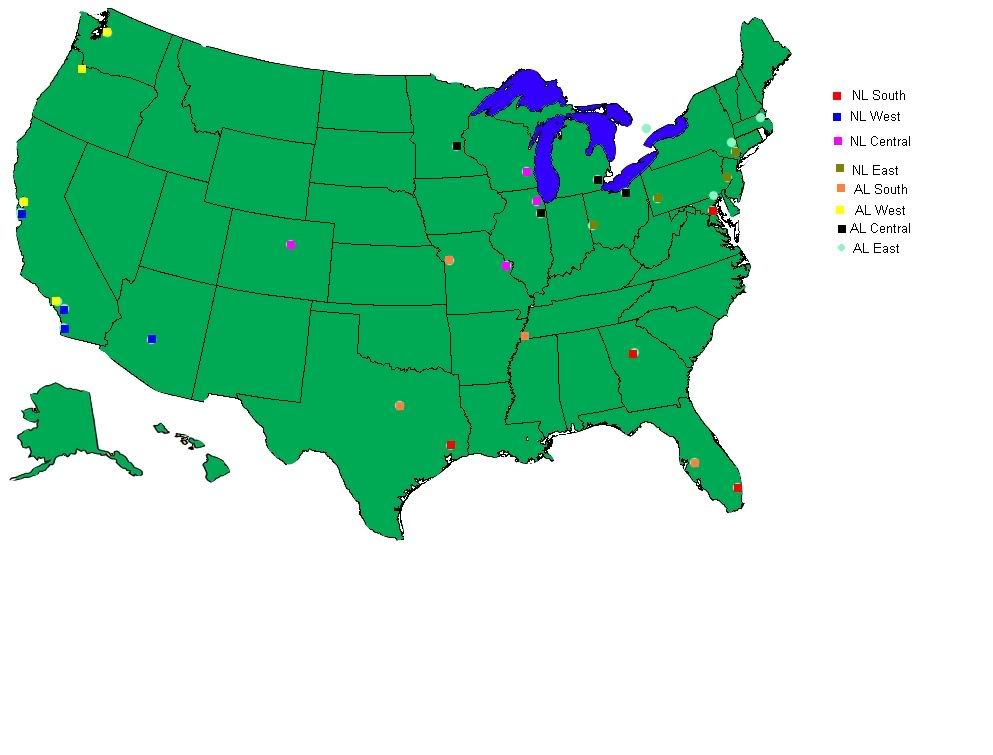 As you may have been able to discern from my fantastic map (thank you MS Paint), I added franchises in Portland and Memphis.  Sorry Las Vegas, I just don't see it happening.  Baseball is way too scared of the image a pro team in Vegas would conjure up.
I chose Memphis for a few reasons.  Memphis is the 3rd largest city in the Southeast and the 19th largest in the country.  This would place a team in a city bigger than all but 12 current clubs' cities.  The city's location allows MLB to pull in new fans from areas formerly far away from a major team; such as Western Kentucky, Arkansas, Alabama, and Tennessee itself.  The only potential problem is that the St. Louis Cardinals' AAA affiliate, the Memphis Redbirds, already are established in the city.  This is bound to happen in almost any major city that could possibly support an expansion team though.
Portland may seem like less obvious of a choice, as the Mariners already give MLB a presence in the Pacific Northwest.  Portland is the third largest city in this region and the 29th largest in the country, immediately behind Las Vegas but still ahead of 11 other current MLB cities like St. Louis, Cleveland, and Cincinatti.  Over the last ten years, Portland's population growth has outpaced the national average.  The city is growing, which would result in a chance to grab up more fans as the area booms.  Portland suffers the same problem as Memphis though, as the San Diego Padres have their AAA team, the Portland Beavers, in town.
Division Realignments
Adding two new teams would force the divisions to realign again.  I basically used the NFL as my template for this, since it already has 32 teams.  I believe that splitting the leagues into four divisions each makes the most sense, as otherwise the issue of non-even divisions remains.  The only negative to this is the elimination of the wild card, as the playoffs would now comprise of the eight division winner.  I chose not to follow the NFL's 12 playoff team model with first-round byes as then the baseball season wouldn't end until mid-to-late-November, and that's no good.  I did my best to keep certain traditional rivalries together.  Here are the new divisions and the teams in them.
AL West: Seattle, Portland, Oakland, Los Angeles
AL Central: Minnesota, Chicago, Detroit, Cleveland
AL East: Toronto, New York, Boston, Baltimore
AL South: Texas, Tampa Bay, Kansas City, Memphis
NL West: Arizona, Los Angeles, San Francisco, San Diego
NL Central: Colorado, Chicago, St. Louis, Milwaukee
NL East: New York, Philadelphia, Pittsburgh, Cincinatti
NL South: Florida, Atlanta, Houston, Washington
The only one that felt weird to me was Colorado, but where else could the Rockies go that would feel any better?  I don't advocate expansion as it would further dilute the talent pool, but if it was going to happen I'd like it to be like this.  KW needs to do something, as the lull in activity results in weird articles like this.