I used to love to collect baseball cards as a kid. When I was in my prime card collecting years, you had 3 choices... Topps, Fleer and Donruss. Shortly after, Score came in and then Upper Deck. I built quite a collection through the years. My closet at my parents house is full of baseball cards from 1982-1997.
After 1997, I started spending most of my money on other things. However, I still always tried to collect as many White Sox cards as I could. That continues to this day. My brother recently got me a box of Topps for my birthday, and I was pleased to snag a Sergio Santos, a throwback Carlton Fisk and even a Philip Humber. The Adam Dunn White Sox card I got made my stomach turn, but nonetheless it will be kept with my boxes upon boxes of White Sox players. Every single White Sox card I have, I have sorted out by player. I love trying to find White Sox cards of my favorite players that I don't yet have.
Here are my top 5 favorite White Sox cards of all time:
1984 Topps Ron Kittle. 1984 is my favorite set. Ron Kittle is my favorite player. It was the year after Winning Ugly and contained all of my favorites from the first team that I remember following. I also like the action shot, close up and team name in team colors coming down the side.
1987 Topps Harold Baines. When I was getting these cards back in 1987, I kind of thought they were bland with the wood trim. However, as I have gotten older they are one of my favorite designs. It also catches Harold swinging the bat, something that a lot of the Topps versions didn't catch. I still remember the Donruss 1986 version that shows Harold dropping a bunt. Terrible.
2008 Topps Update Ken Griffey Jr. The coolest thing about getting Griffey on the White Sox was seeing him in a Sox jersey. The second coolest thing, in my opinion, was being able to snag a Griffey card on the White Sox. Other future HOF'ers like Steve Carlton and Tom Seaver played a few years with the Sox at the end of their careers, but in my opinion, Griffey was the coolest of the bunch.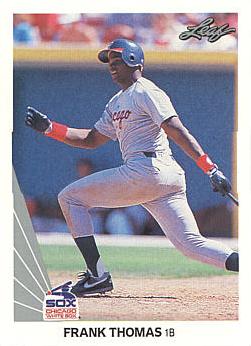 1990 Leaf Frank Thomas. At one time, this card was the jewel of any White Sox fans collection. Leaf wasn't in circulation as much as Topps, Fleer, Upper Deck and Donruss at the time so it made this Frank Thomas all that much more important to get. This card can be had now for under $20, but back in 1990 it was closer to $80.
1992 Score No Hit Club Wilson Alvarez. I remember getting this card and thinking how awesome Wilson Alvarez was. My brother tried to steal this card from my album and I almost choked him out. Wilson Alvarez' no hitter against the Orioles in 1991 was pretty special. Imagine Nestor Molina coming up and tossing a no hitter in his first start. Wilson could have done nothing after that and I still would have loved him.
So what are your favorite cards? Do you still collect them? How did/do you organize them? One of the cool things Topps has been doing is putting out the new players on the old designs. If they ever come out with the 1984 Heritage collection, put me down for 2 boxes.
Baseball cards always meant a lot to me. Nothing better than going through a pack and finding your favorite player. I've recently started buying my son some cards and I hope he enjoys the hobby as much as I do.