Corey Ray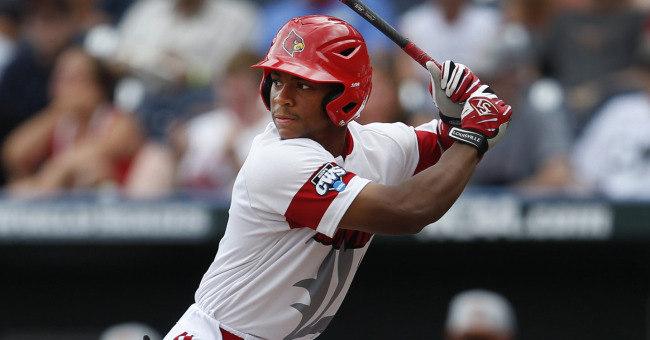 There are times when everything comes together. This June may be one of those times. Corey is a five tool dynamo from Louisville, a team he led to the College World Series this spring.
His journey started on the South side of Chicago. He was a member of the Chicago White Sox Elite travel program and a stand out player at Simeon High. The White Sox helped him get a full ride to Louisville and they did not regret it. He does it all including stealing home this spring in a game winner. He is as slick as whale spit and there is a good chance he is still on the board at ten.
He's 5' 11" 185 lb. Bats Left and throws left. He plays Center Field and has the tools to stick. He hits the ball hard, side line to side line. With travel team , high school and three years of college under his belt, he should move quickly through the minors. We might see him in 2018.
What a great thing to have a local southside kid staring for your Chicago White Sox.
I also posted this elsewhere but it offers Cuban players of note for the International Draft in July.
 Here are some Cuban players that will be in the International Draft in 2016. As we know 9 teams will be unable to sign these players, either at all or for more than 300,000.
Vladimir Gutierrez, 19, RHP

His fastball was clocked in the 89-92-mph range and he topped out at 94 mph at the showcase. Gutierrez showed a decent curveball and changeup, but he didn't display his best command.
The 6-foot-3, 172-pound Gutierrez was the Serie Nacional Rookie of the Year during the 2013-14 season. He went 5-5 with a 3.90 ERA during his rookie season, primarily pitching out of the bullpen. Gutierrez also sported a 2.45 ERA as a reliever during the 2014-15 season. The pitcher left his Pinar del Rio team during the Caribbean Series in February in San Juan, Puerto Rico, and made his way to Mexico, where he eventually established residency in May.
Yusniel Diaz, 19, OF
The 6-foot-1, 185-pound Diaz is free to sign and has been a main attraction at private workouts and showcases in the Dominican Republic since early August.
Diaz continues to show athleticism along with some hitting and power potential in the showcases. He has clocked sub-6.5-second 60-yard dashes and also impressed scouts with his body projection. Evaluators also liked Diaz's bat speed and believe he can play center field.
Adrian Morejon, 16, LHP
Morejon is the real deal. The left-handed teenager has shined in international competitions, and his fastball hovers in the 91-93 mph range. Morejon has four pitches, plus command and plus makeup. He's an international star and one scout said he might be the best young arm overall in 2016, and that includes the international market and the 2016 Draft. Morejon is working on his documents and has not been declared a free agent.
Jorge Oña, 19, OF
The 6-foot-1, 215-pound teenager has a good approach at the plate for a player his age and has been clocked at 6.85 in the 60-yard dash. Oña is big and solid, with a nice simple swing and raw power. He has not been declared a free agent.
Lazarito Armenteros, 16, OF
The 6-foot-2, 205-pound Armenteros was named to the all-tournament team after hitting .462 with nine runs, three doubles, five triples and eight RBIs in nine games during Cuba's championship run at the U15 Baseball World Cup in Mexico last year.
Armenteros also had 42 hits in 38 games, with eight doubles, three triples, six home runs and 12 stolen bases for Havana's under-15 team in 2014. He recorded five hits, including two triples, in four games for Havana as a 13-year-old. Armenteros has not been declared a free agent
Julio Alfredo Martinez Wong, 24, LHP
Wong is a polished strike-thrower with a fastball that ranges from 87-90 mph. He might not be the most electric pitcher on the market, but he knows what he's doing on the mound and has an assortment of pitches, including an advanced curveball. Wong has not been declared a free agent.
Jonatan Machado, 16, INF/OF
The speedy Machado has added mass to his 5-foot-10, 155-pound frame during the past few months. He profiles as a leadoff hitter and has been clocked at 6.5 seconds in the 60-yard dash. He can play shortstop and center field. Nicknamed "Ichiro," Machado