The White Sox draft #49 in the second round, and #87 in the third. Most drafts are half pitchers and half hitters. This draft will be different, at least through the first few rounds. College pitching is king. Much better than college hitting.
MLB shows 28 pitchers in their top 50. BA offers 26 college pitchers in the first 45 players out of college. There is a chance 30 pitchers could be off the board when #49 rolls around. maybe 50 by the time #87 is called.
This draft strikes me as a great opportunity to find high school hitting. Something the White Sox denied themselves of last year, drafting only one high school hitter in the first 25 rounds. These days, the best hitting prospects are drafted out of high school. At #49, as few as ten high school hitters will be off the board. At #87 maybe twenty.
I went looking for players who might be still available, who could have the make up to play on the big stage. I'll start with three players on MLB's top 50 list.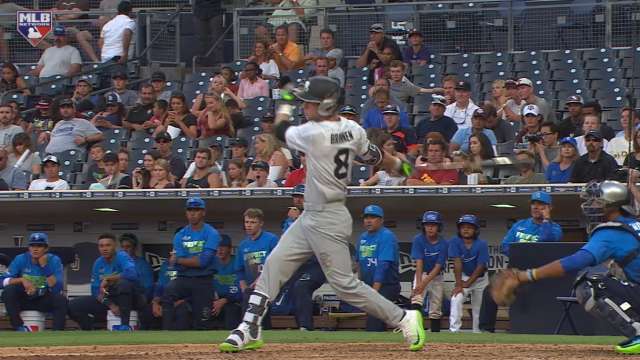 Cole Brannen
6-foot-1, 188 pounds; L/R;
Of these players, Cole is the most likely to be gone. You can't teach speed, and Brannen is blazing fast. He posted a 6.18 in the sixty yard dash. He has some pop as well, and plays a solid center field. He has a line drive swing and sprays the ball to all fields. Cole is a exciting player with a bright future.
Nick Pratto 6 foot 2 195 pounds L/L
There is a good chance Pratto is on the board when the Sox pick at #49. He plays first base, not a premium position and he has average speed. He also pitches, so the arm is strong, and his skill at first is above average. He is a polished hitter with the power you look for at first base and a great makeup, to go along with leadership abilities. He could play corner outfield as well. So he's not stuck at first base.
Drew Waters 6 foot 2 / 185 pounds S/ R
Drew is a baller. The kind of player you want on your team, not playing against you. Plus speed, and dangerous from both sides of the plate. He handles center field with ease and is an ideal lead off man. His arm is also above average, to go with a great baseball IQ. He's not just a Punch and Judy hitter either. Waters can hit it over the fence.
Next ,two players they missed who should be top 50 players.
Adam Hall 6-foot, 170 pounds; R/R
Adam is a big miss on MLB's top 50 list. I am sure he will be on it when they update. BA lists him as the 16th best high school player. I'd say that's about right. 6.29 in the sixty. Adam is a legitimate Short Stop prospect. He comes out of Canada. Adam's parents are teachers so they have had the time to bring him to tournaments, so he is well known and has excelled against top talent. Soft hands, a quick exchange and release, with a strong accurate arm. He's a good student and a natural field general that you want at SS. I would love to see him on the board at #49.
Cole Turney 6 foot, 208 pounds L/L
Turney is a slugger. His KenStar is through the roof. He played at Wrigley last summer. Taking batting practice at Northwestern, there is a building past the right field fence. It is 410 feet from home plate. Cole hit several shots off that building, 20 to 50 feet up. He runs well, throws well and is a solid outfielder. That being said, power is his calling card.
Lastly, three more players who may be available at #87 or could improve their stock and move up to the second round pick.
Christian Robinson 6 foot 2 205 pounds L/L
Christian is a recent addition to the draft. He is graduating a year early. Robinson is a very bright young man with tons of talent. He will be young for this draft. Good speed, a strong accurate arm. He has a strong fluid, quick bat from the left side and endless athletic ability. He might move way up the board. Right now it is had to say where Robinson will be drafted.
Jason Willow 6 foot 2 175 pound R/R
I just love this kid. He is from British Columbia. He's is very wiry with a baby face, but he can play with the big boys. He got an invite to the Area Code games or who would have even seen him? That's were he jacked one over the fence and woke up the crowd. He played on the Canada team that plays the Blue Jays once year. Badly over matched, his team had only one hit, His. Rather than enjoy his moment in the sun, he promptly took off and stole second. I think he has what it takes, and I wish him well.
Andrew Papantonis 6 foot 1 185 pounds R/R
Papantonis is from New Jersey. Being a two sport player from a short season area, he has not been seen a lot. When he is seen, he is noticed. Andrew is a natural athlete. He does everything well. There is lift to his swing as he breaks his wrists through the ball at contact. The ball off the bat looks like it was hit by a 10.5 Degree driver. Boom !
He a two way player on his football team. Quarterback, defensive back,and punt returner. He hurt his leg this fall and I think it is an ACL. If that is the case, he will not play is year. He's a player to watch. Please no more football dude.
To conclude.
The time has come to load some long range position talent and with the rest of the league grabbing college pitching, this is a very good opportunity. Talking to you Nick.